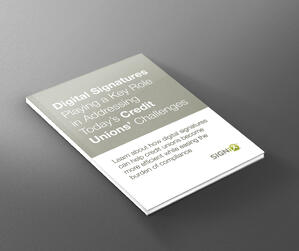 We've released a free eBook titled "Digital Signatures Playing a Key Role in Addressing Today's Credit Union Challenges" to give credit union executives everything they need to know about digital signatures and the role they play in credit union compliance.
Here at SIGNiX, we know complying with regulations is a big deal for credit unions. Regulation Z now requires that every time a credit union changes the terms of a loan, they must get the member's signature instead of a verbal approval. This adds paperwork and hassle for both the credit union staff and for members. Digital signatures can ease this burden by enabling members to securely sign documents online without any hardware or software required.
To download your free digital copy of the eBook, click here.