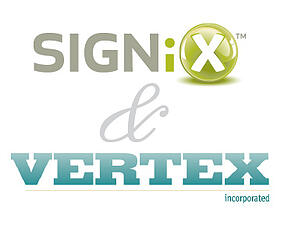 If you don't mind, we'd like to make you aware of some news! A press release came out this morning sharing our new partnership with VERTEX. You should take a peek at the article and read more about it: SIGNiX and VERTEX Partner to Broaden the Use of Digital Signatures in Financial Services Market.
We're proud of this new partnership and think it opens the door to many opportunities within the financial services market for companies to become more efficient and save money. With all of our talk about the paperless office in the last few blog posts, here is an example of a company putting into practice what we've been talking about and making the paperless office achievable for others. Our last blog post, "How To" Ideas for Achieving the Paperless Office, lists the idea, "find a company you can partner with to help you achieve the paperless office." We're practicing what we preach!
Are you interested in partnering with us? Click HERE to be contacted by one of our specialists!