So you've created an awesome product. Maybe it's a tool to manage your documents or a customer relationship management (CRM) system. But something's missing—digital signatures.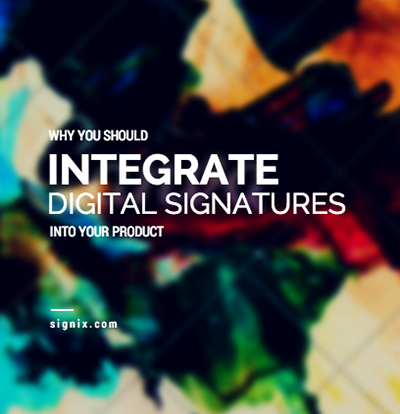 Sure, you could create your own digital signature service. But why reinvent the wheel? Instead, you can partner with an established digital signature vendor that has already developed a great product (if we do say so ourselves).
SIGNiX is a cloud-based digital signature service with more than 12 years of experience. Our strategy has been to build integrations with partners and clients in highly regulated industries. We have a history of successful integrations, and we've designed our Signature EngineTM to make it easy for you to integrate digital signatures into your own systems and services.
Our current integration partners include Pershing, zipLogix, Laser App, DocuPace, CommunityLeader, MediTract and many more.
"The upgrades that have been delivered consistently for zipLogix Digital Ink have created the digital signature powerhouse utility for all real estate practitioners," stated Walter McDonald, Chairman of the Board for zipLogix. "Enhancing the customization options and improving preparation tools have enabled each user to make the experience their own and maintain ease of use."
Not convinced? Check out these benefits of integrating with SIGNiX:
Simple Integration: With SIGNiX, integration is easy. Developers can usually understand the SIGNiX interface within a few hours. Our integration uses a well-documented web services application programming interface (API).
Superior Customization: Integration gives you complete control of design, email content, workflows and other behaviors. Integration can also eliminate the need to re-key information by connecting with back-end systems. Practically every aspect of SIGNiX's service is easy to configure.
Advanced Automation: Because every aspect of a SIGNiX transaction can be controlled through integration, users are freed from having to drag-and-drop every field onto a document.
Outstanding User Experience: SIGNiX typically alerts signers via email when it's their turn to sign. Through integration, this alert can be presented in context to users that are currently in-person or logged into your system.
Flexible Authentication: With SIGNiX, your clients prove their identities before signing with one of our identity authentication options. With integration, we can securely connect with your CRM or other systems to access authentication information.
Highly Trusted Security: When you integrate with SIGNiX, you get access to our trusted and consistent digital signature technology and the overwhelming evidence provided by the SIGNiX TotalAudit™ system.
Scalable Architecture: Our systems are built to handle thousands upon thousands of signatures a second.
Data Import: Through integration, you can feed complex PDF forms into the Signature Engine. In addition, data can also be pulled into SIGNiX and used to pre-fill forms prior to users signing and completing the documents.
FlexStorageTM: With SIGNiX, you choose where you want completed documents and their audit trails to be stored. Do you want every user to get a copy of the documents as attachments in email? Or maybe you want to move all copies to your document repository and ask SIGNiX to delete copies on its servers? The choice is yours.
"Strong integrations are a key part of our business model, and we're always looking for new partnership opportunities," said John Harris, director of product management at SIGNiX. "By integrating with SIGNiX, companies can easily add secure digital signatures to their existing products."
We want to work to make our integration work for you. We have a long history of creating lasting partnerships in a variety of markets. We always try to combine our product with an "everyone-wins" philosophy, where revenue sharing and other relationship-building methods produce exceptional products.
To learn more, download our Integration Guide.