Georgia university adopts digital signatures to make it easy for employees, parents and students to sign documents online. The university picked SIGNiX because of its features, security and competitive pricing.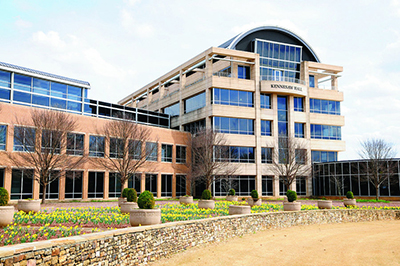 CHATTANOOGA, Tenn.—April 10, 2014—SIGNiX, the global standard for secure digital signatures, announced today that Kennesaw State University (KSU) will use SIGNiX's cloud-based software to get documents signed online. With SIGNiX, KSU will become more efficient and offer better mobile service to employees, parents and students.
"Becoming more efficient is an important part of our university's strategic plan, and e-signatures will help us achieve that goal," said Dr. Randy Hinds, Chief Information Officer at KSU. "With SIGNiX's e-signature product, we can reduce the time it takes to get documents signed. This will improve security and document tracking while reducing the costs involved with handling paper processes."
SIGNiX's digital signature service will replace the time-consuming process of sending, receiving, fact-checking and filing paper documents. Instead, university employees can prepare documents in minutes with the assurance that every finished document will come back without any missing signatures.
"As we expand to reach students across the country and around the world, previously simple tasks become more complicated and time-consuming," Hinds said. "With SIGNiX, students and parents will be able to sign documents online no matter where they call home."In addition to boosting efficiency, SIGNiX's digital signature service will help KSU better serve its growing number of international students.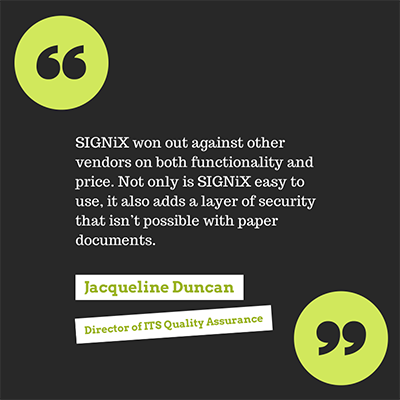 KSU evaluated electronic signature vendors on:
Features and functionality
Security and authentication
Integration capabilities
Workflow capabilities
Document storage and retention
Administration, support and maintenance
Scalability
Data loss prevention methods
"SIGNiX won out against other vendors on both functionality and price," said Jacqueline Duncan, Director of ITS Quality Assurance. "Not only is SIGNiX easy to use, it also adds a layer of security that isn't possible with paper documents."
Kennesaw State will pilot their electronic signature project inside its own information technology department. Initially, they will use MyDoX to get privacy notices and internal approvals signed online. In the coming months, they hope to roll out SIGNiX's e-signature technology to other departments, including the human resources department and the student enrollment services department.
"Universities are looking for a scalable solution, which is why many of them are picking SIGNiX," said Jay Jumper, president and CEO of SIGNiX. "Our technology is easy enough to use for consent forms and online agreements, and it's also secure enough for student loan agreements. SIGNiX can meet universities' needs, both now and in the future."
About SIGNiX
SIGNiX, the Global Digital Signature AuthorityTM, makes signing documents online safe and secure. SIGNiX offers the only independently verifiable cloud-based digital signature solution, which combines convenience with best-in-class security. SIGNiX's products help the world's leading companies become more efficient, decrease risk and boost profits. For more information, visit www.signix.com or follow SIGNiX on Twitter.