Crowdfunding portal provider adds leading electronic signature solution to its platform to bring efficiency, strong security and legal evidence to latest trend in equity funding.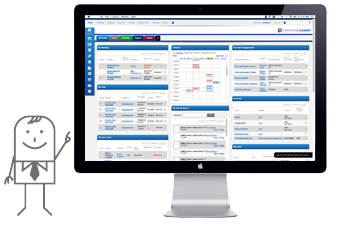 CHATTANOOGA, Tenn.—CommunityLeader, the nation's premier provider of funding portal platform software and services for the growing online securities market, has added the leading digital signature company SIGNiX to its growing list of integrated partners.
SIGNiX provides the most secure digital signature solution on the market and has integrated with CommunityLeader's Apicista platform to allow crowdfunding portals to provide issuers and investors a seamless and compliant way to sign securities documents.
"SIGNiX's technology provides our portal clients an integrated solution for digital signatures, which meets the regulatory requirements of an online securities transaction," said Joseph Barisonzi, CEO of CommunityLeader. "Integrated with our crowdfunding engine—Apicista—the SIGNiX solution provides a cost-effective and time sensitive investor experience."
With SIGNiX's products, both investors and companies raising money will be able to legally sign investment documents on any device with an Internet connection. "SIGNiX's EnterpriseDoX is market-tested as a way to speed up transactions," said Steven Bettis, senior vice president of sales at SIGNiX. "Our technology will allow CommunityLeader to provide investors, issuers and portal operators a solution they can trust."
Crowdfunding is emerging as an innovative way to reduce costs and increase access to private capital for startups and growing businesses. With a projected market of up to $300 billion, crowdfunding is bringing dramatic innovations to the private capital markets and substantial new opportunities for entrepreneurs and funders worldwide.
"Scanning, printing, faxing and shipping are often labor-intensive and can't match the efficiency and time-savings produced by an integrated digital signature solution," said Scott Bachman, chief marketing officer of CommunityLeader. "Moreover, traditional electronic signatures fail to meet the required thresholds in our heavily regulated environment."
"We're looking forward to working with crowdfunding leaders like the team at CommunityLeader," Bettis said. "Our technology will be part of achieving their vision of a crowdfunding platform that clearly sets a new bar for compliance and user experience."
About SIGNiX
SIGNiX, the Global Digital Signature Authority, makes signing documents online safe and secure. SIGNiX offers the only independently verifiable cloud-based digital signature solution, which combines convenience with best-in-class security. SIGNiX's products help the world's leading companies become more efficient, decrease risk and boost profits. For more information, visit http://www.signix.com.
About CommunityLeader
CommunityLeader is a software and service provider for broker-dealers and other organizations that want to effectively link private companies and prospective investors into a platform for the compliant facilitation of securities-based crowdfunding offerings. They develop and launch custom white-labeled portals that encompass portal operator's unique brand and crowdfunding ecosystem.