CommunityLeader embeds industry leading electronic signature technology into their platform to bring efficiency, strong security and legal evidence to the latest trend in equity funding.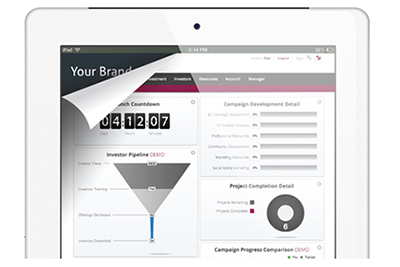 CHATTANOOGA, Tenn. — October 10, 2013 — SIGNiX, the nation's leading provider of secure digital signatures, recently added crowdfunding company CommunityLeader to its growing client roster.
CommunityLeader has integrated SIGNiX into its dynamic crowdfunding platform. This will make it easy for CommunityLeader clients to capture signatures from funding sources and investors across the Internet.
"SIGNiX's technology will help business owners and investors sign documents from their office chair, a beach chair or anywhere in between," said Joseph Barisonzi, CEO of CommunityLeader. "It's convenient for our customers, and it speeds up document turnaround. That's essential in the very time-sensitive environment of online crowdfunding."
Crowdfunding has emerged as an innovative way to raise capital online for growing businesses. Market projections for crowdfunding vary widely from $4 billion to over $300 billion, but either way, it stands to bring substantial new opportunities for entrepreneurs and funders worldwide.
"We were looking for a solution that would go beyond providing legally signed documents to work within the crowdfunding business model," said Scott Bachman, CommunityLeader's Chief Marketing Officer. "The leadership team at SIGNiX took the time to get to know this emerging market and design a unique solution to meet our needs."
Bachman added that other electronic signature vendors simply did not meet CommunityLeader's security and compliance requirements.
CommunityLeader is using EnterpriseDoX to integrate SIGNiX's e-signature service into its crowdfunding platform. With this added technology, any CommunityLeader client can get documents signed on any device with an Internet connection.
"We're looking forward to working with CommunityLeader to help enhance their services to broker-dealers, businesses and innovative crowdfunding entrepreneurs," said Steven Bettis, senior vice president of sales at SIGNiX. "Our technology will help CommunityLeader set the bar for compliance and user experience in the crowdfunding space."
About SIGNiX
SIGNiX, the Global Digital Signature AuthorityTM, makes signing documents online safe and secure. SIGNiX offers the only independently verifiable cloud-based digital signature solution, which combines convenience with best-in-class security. SIGNiX's products help the world's leading companies become more efficient, decrease risk and boost profits. For more information, visit www.signix.com.
About CommunityLeader
CommunityLeader is a software and service provider for broker-dealers and other organizations looking to link private companies and prospective investors using a platform for the compliant facilitation of securities-based crowdfunding campaigns. They develop and customize white-labeled portals that encompass each portal operator's unique brand and crowdfunding ecosystem. For more information, visit www.communityleader.com.