Leading digital signature company offers free eBook to educate financial advisors about the benefits of e-signatures for broker-dealers and registered independent advisors.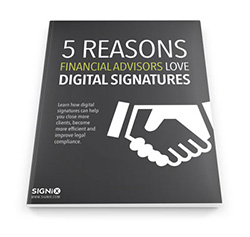 CHATTANOOGA, Tenn.—September 12, 2013—SIGNiX, the leading provider of secure digital signatures, has released an eBook titled "5 Reasons Financial Advisors Love Digital Signatures" to give broker-dealers and registered investment advisors everything they need to know about how digital signatures can streamline operations and ease compliance burdens.
"A growing number of financial advisors are adopting digital signatures, but some still have questions about the legal and compliance issues involved with this technology," said Pem Guerry, executive vice president of SIGNiX. "This eBook reveals the top five reasons advisors are adopting digital signatures and helps explain the legality of this technology"
Those who download this eBook will learn:
The top 5 benefits of digital signatures for financial advisors
How to find out if a digital signature is legally defensible
SEC/FINRA compliance issues surrounding digital signatures
7 things to look for in an digital signature vendor
How to adopt digital signatures
SIGNiX's digital signature products make it easy for financial advisors to get documents signed online while maintaining regulatory compliance and necessary legal evidence. This is a priority for firms with highly mobile clients who require access to financial services at their fingertips. With SIGNiX, clients can review and sign documents online at their own pace no matter where they are.
To download the eBook, go to http://www.signix.com/digital-signatures-for-financial-advisors-ebook
About SIGNiX
SIGNiX, the Global Digital Signature AuthorityTM,makes signing documents online safe and secure. SIGNiX offers the only independently verifiable cloud-based digital signature solution, which combines convenience with best-in-class security. SIGNiX's products help the world's leading companies become more efficient, decrease risk and boost profits.