Today is National Data Privacy Day—a day to promote online privacy awareness and to take the cringe factor out of releasing data in cyberspace.
With e-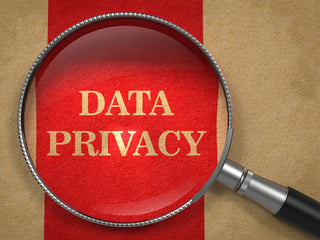 signatures playing a pivotal role in digital documentation, there's no better time for a heart-to-heart on privacy.
Let's face it—privacy is something almost every person thinks about when they're online. 93% of Americans say it's important to control who can get their information, according to Pew Research Center. From cookies to passwords to the "s" you triple-check in the navigation bar before submitting your credit card information to an online retailer, you need to know your data will be kept confidential. This includes the e-signing process.
E-signed documents are frequently sent, signed and stored in the cloud, so e-signature vendors hold a great responsibility to keep your data private. But before you scour the terms and conditions with a fine tooth comb (and we do suggest that you do that), first look for e-signature vendors that offer three key data privacy deal-makers.
Data encryption. Data encryption, a.k.a. a fancy mathematical algorithm that decodes (and recodes) data so it's unreadable by anyone accept the authorized party, is fundamental to e-signature privacy. Without it, anyone with a working knowledge of the dark web could view information in a document. So, it's important to look for the highest levels of encryption, like Secure Sockets Layer (SSL) encryption.

But don't stop there. SSL keys vary in strength. You can choose 128-bit, 192-bit or 256-bit (what SIGNiX uses) technology. The higher the bit number, the exponentially more key combinations are available—which makes the highest bit level nearly impossible to crack.

But keep going still. That's just encryption on documents in transit. You also need to consider the encryption of documents at rest. The latest systems, like SIGNiX, use AES (Advanced Encryption Standard) 256 bit protection while the documents are in our servers.

And don't forget about the signatures and initials, too! Independent E-Signatures™, in contrast to dependent signatures, use public-key infrastructure (PKI) based on specific international standards to further protect documents. PKI uses a public key and a private key for security. The private key is used for signing a message or a document while the public key is used to verify that signature.

This process makes sure all digital documents retain the highest levels of privacy and validity.
Authentication. Want to your keep poker buddies from eyeing your cards? Keep them close to your chest. Want to keep hackers from viewing your e-signed documents and data? Use high levels of identity authentication to keep information away from the wrong eyes.

Authentication technology, like email verification, shared-secret questions and knowledge-based authentication, among other methods, keep documents private by denying access to anyone who can't prove they're supposed to view those documents. And multi-factor authentication provides at least two levels of validation before a person can open or sign documents.
Digital shredding. Privacy, above all, means control over your data. It's yours to own, view and use—no one else's (especially not your e-signature vendor's). But some e-signature providers need your data and documents for the long haul. Dependent e-signatures, for instance, hold legal evidence on their servers, so in the event of a legal challenge, you'll need to rely on them to get that information.

But SIGNiX's Independent E-Signatures™ embed legal evidence into a signed document and audit trail, so there is no need to keep evidence or signed documents on our servers. Instead, we can digitally shred documents. The process destroys our copies of documents without a trace of metadata. You keep sole control over your data, and when you need privacy, there's nothing more empowering.
In healthcare, real estate, financial services and beyond—e-signed documents can hold personal, valuable information. But with the right e-signature technology, you don't have to share that data with the world. So Hallmark holiday or not, let's clink a glass to National Data Privacy Day and then spread the word.
Download this free eBook to learn the 8 rules for e-signature security.
What are your go-to ways to keep data private? Tell us by leaving a comment below.