Twitter can be an invaluable tool for credit unions to help attract new members and promote products and services.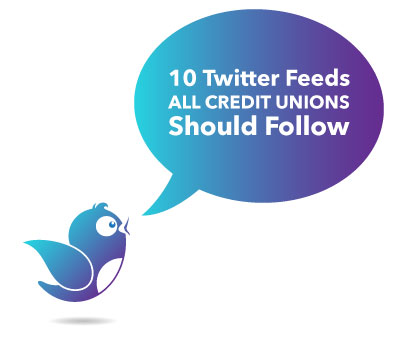 But to make the most of Twitter's potential, you must be following the thought leaders in the credit union industry. Following the right people will help ensure that your feed is always full of helpful and interesting content. Plus re-tweeting influential posts can boost your social reputation!
But if you've used Twitter before, you know it can take time to find and follow the users that mirror your interests. That's why we've created this handy list of the top ten Twitter feeds all credit union managers should follow. And of course, follow us @signixsolutions too!
Sarah Snell Cooke, the publisher and editor-in-chief of CUTimes.com, is a Twitter power user. Every day, she posts a huge amount of tips, trends and advice for credit union managers. She also re-tweets a lot of relevant content, so her stream has a lot of variety.
The Financial Brand gives a lot of great information for credit union managers. They focus on brand and marketing ideas for credit unions, but they also give a stead stream of credit union news and trends.
Having trouble leveraging Twitter for your credit union? Follow Financial Center FCU's Twitter feed, and take notes! This is one credit union that knows how to use Twitter.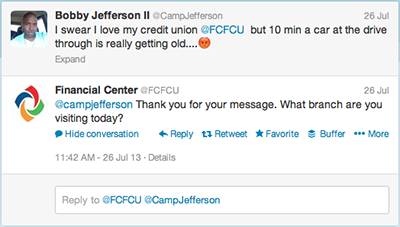 They don't just promote their services, they also use Twitter as a customer service and support portal. When their members Tweet about problems or frustrations they're having with the credit union's services, the credit union reaches out on Twitter to help them fix the problem. Getting immediate feedback can turn a problem into a customer support success story for your credit union.
The official Twitter feed of CreditUnions.com mostly posts links to their own website, but I don't mind that so much since the content always interesting, educational and relevant.
The Credit Union Journal Twitter feed looks more like a RSS reader than anything else. Like CreditUnions.com, most of their posts are direct links back to their own website, but they're still definitely worth following to stay updated on industry trends and news.
The Twitter feed for CUNA Advocacy takes on tough issues facing credit unions across the country. Most recently, they've started the movement behind #DontTaxMyCU, a campaign to influence Congress to maintain credit unions' tax exempt status.
Following an avid blogger like Robert McGarvey can give you an insider's perspective into credit union news. His Twitter feed covers a broad range of topics, from mobile banking trends to security concerns. An added bonus? Every once in a while, he Tweets asking for credit unions' opinions on different issues, so if you respond you have the chance of being quoted in one of his articles!
The official Twitter feed for CUNA Mutual Group is very active, providing news, tips and trends for credit unions. The group also does a great job of interacting with Twitter users, answering questions and thanking users for re-tweets.
This Twitter feed is a great resource on the benefits of banking at credit unions. The group posts articles comparing credit unions to large banks, which can be good resources for potential members who are on the fence about joining a credit union.
Randy Smith, the co-founder and publisher of CUInsight.com, posts a steady stream of credit union news and trends. The daily news headline round up is especially helpful if you don't have much time to catch up on credit union news.
Know of anyone we left out? Let us know in the comments panel below this post!