A signature move sets you apart from the competition, has the ability to identify you and make your company unforgettable. Similarly, a handwritten signature is recognized as your personal seal of approval, or your own label.

SIGNiX's signature move is our Independent E-Signature™ solution that gives you peace of mind by embedding legal evidence of the signing process and the signature right into your signed PDF document. Your signature is legal and permanent with no dependence on SIGNiX.
Take a look at these famous signature moves and tell us about your signature move:
Usain Bolt

Simone Biles
Cam Newton
Carl Edwards
Lebron James
SIGNiX
You can make your signature move online anytime, anywhere, on any device.
SIGNiX's easy-to-use Independent E-Signature™ solution can set your company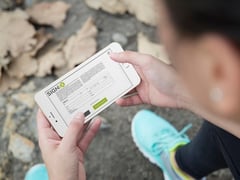 apart in security and efficiency. Make your signature move and switch to digital signatures.
To learn more about SIGNiX's signature move, download this free white paper: