We're proud to announce that we have partnered with Trinisys, a leading provider of intuitive automation, integration and translation solutions for the healthcare industry. The SIGNiX and Trinisys partnership integrates our secure Independent E-Signature services into Trinisys' Convergence Platform supporting solutions that connect systems to systems and people to systems.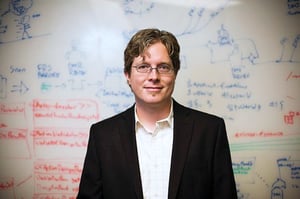 The integrated e-signature product will allow Trinisys to further automate manual processes for credentialing and other transactions that traditionally require signatures, saving organizations time, effort and money. SIGNiX's e-signature solution moves this process another step forward.
"Trinisys has a long history of addressing the need to automate manual processes in healthcare," says Antoine Agassi, Chief Executive Officer of Trinisys. "We needed an e-signature platform that would allow the healthcare organizations we serve to manage their electronic data independently, and be HIPAA compliant. SIGNiX exceeded our expectations and is a partner-focused company, which is important to Trinisys and our clients."
Trinisys intends to deploy the SIGNiX functionality in June to support its customers with any e-signature needs they may have.
"We're excited about the opportunities this new partnership offers to share our Independent E-SignatureTM technology with healthcare and other industries," says Jay Jumper, Chief Executive Officer of SIGNiX. "Trinisys clients will receive the full power of our independent e-signature technology, meaning physicians and other professionals can digitally sign documents anywhere on virtually any device, providing a secure, future-proof solution for documents and signatures indefinitely. In healthcare, few are trusted like Trinisys and SIGNiX.
About Trinisys:
Trinisys is the leader in the delivery of intuitive automation, translation and integration services that connect systems to systems and people to systems. With significant traction in the healthcare industry, Trinisys has been deployed by Fortune 100 companies and small to medium-sized businesses, processing more than a billion transactions. Built on the Convergence Platform, Trinisys offers solutions that Convert, Connect and Combine non-standard data. In addition Trinisys offers robust applications that automate credentialing, eligibility and payment processing. For more information about Trinisys, visit www.trinisys.com.