SIGNiX, the leading provider of cloud-basedIndependent E-Signature™ solutions, is proud to announce that it has launched ReadyDoX™, an e-signature solution that brings Independent E-Signature™ technology to online forms processing.
The new solution allows companies to provide their customers with a simple, convenient and quick way to input information into a self-service form and then securely complete the transaction by signing electronically.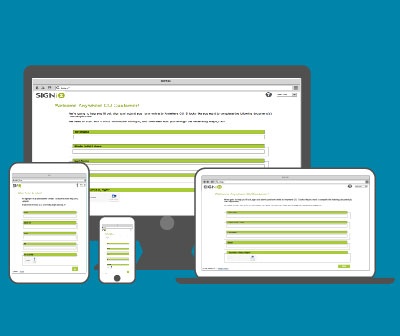 Rather than mailing, faxing or emailing documents to signers, ReadyDoX™ users simply embed a link, or links, provided by SIGNiX into their website with no programming or integration needed. These links automatically direct customers to an online form where they are prompted to provide requested information and then digitally sign the requested documents. Signed documents can be downloaded or printed, and businesses are automatically notified when the transaction is complete.
"ReadyDoX™ brings a new level of convenience to secure e-signatures. Because the signer initiates the transaction, there's no waiting on a company or an employee to send an email to get the process moving," said Jay Jumper, CEO of SIGNiX. "And with secure document transfer and e-signature processes, even companies in highly-regulated industries, like financial services or healthcare, can confidently host forms online, such as waivers, consent forms and customer or patient intake forms."
The technology also reduces issues that arise with incomplete forms. Documents that are not in good order (NIGO) cannot be submitted until required fields have been completed – eliminating the wasted time spent on the exchange of NIGO forms, which can often also mean lost opportunities.
All ReadyDoX™ transactions feature SIGNiX's Independent E-Signatures™, which embed the legal evidence of a signature into a signed document—thereby ensuring its independent validity for years to come. The technology is based on international, published standards, backed by a comprehensive audit trail and can be verified independently without linking to SIGNiX.