We are happy to announce our partnership with MediTract of Chattanooga, Tennessee.
MediTract serves a quarter of the nation's hospitals with contract lifecycle management solutions and consulting services, and it's the leading contract management and compliance company solely dedicated to healthcare. MediTract is at the forefront of the complex and continually evolving regulatory environment, and it has incorporated a full suite of hospital compliance components into its contract lifecycle management solution.
MediTract's process manager workflow functionality is the only healthcare-specific, enterprise solution that couples efficient contract management with compliant contracting processes. The SIGNiX and MediTract collaboration allows MediTract to further automate its process manager solution with e-signatures. It will save healthcare providers additional time and effort that can be reinvested in patient care, and further strengthens MediTract's superior security capabilities.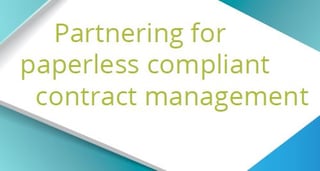 "MediTract has a long and proud history of automating manual processes associated with contract management and compliance in healthcare," said John Riley, Vice President of sales and business development at MediTract. "We needed an e-signature partner who would allow the healthcare organizations we serve to execute their electronic documents independently while simultaneously conforming to strict compliance regulations." Riley added, "Selecting and then integrating a third-party product takes a lot of behind-the scenes work to make it seamless for our end users. SIGNiX worked side-by-side with us to assure this happened. They were easy to work with, quick to respond and always forthright with the information we needed. They are a valued partner."
SIGNiX's Independent E-Signature™ solution, which permanently embeds the legal evidence of a signature into a signed document, is designed to meet the strict compliance standards of the healthcare and life sciences industries, including HIPAA and FDA 21 CFR Part 11.
"We're excited about the opportunities this new partnership offers to share our Independent E-SignatureTM technology with the healthcare industry," says Jay Jumper, Chief Executive Officer of SIGNiX. "MediTract clients will receive the full power of our independent e-signature technology, meaning healthcare providers can digitally sign documents anywhere on virtually any device, providing a secure, future-proof solution for documents and signatures indefinitely.
In healthcare, few are trusted like MediTract and SIGNiX." Jumper added, "We're also thrilled to have a national leader as a partner that is located in our hometown of Chattanooga, TN."
About MediTract
MediTract is the only enterprise contract lifecycle management company solely dedicated to healthcare. Serving 2 in 5 hospitals across the United States, MediTract understands the unique requirements of a hospital's contracting processes and the need to incorporate best-practice approaches. With over 15 years of successful implementations, trusted guidance, and compliance support, MediTract is the preferred contract management solution for the nation's leading hospitals. For more information, visit www.meditract.com.
To learn more about partnering with SIGNiX, download our free white paper.