Are you seeing substantial price increases from your e-signature provider? We understand you want to execute your signatures with ease and at an affordable rate. SIGNiX believes in providing reasonable and transparent pricing to our users. If you're looking for legally binding digital signatures for a fraction of the cost of your current e-signature plan, SIGNiX could be your solution.
Several customers of e-signature companies have reported their frustration with substantial annual increases on their cost per envelope. Others have mentioned their annoyance with the lack of pricing transparency prior to signing on with the vendor. If you don't believe us, just check out DocuSign's Trustpilot reviews!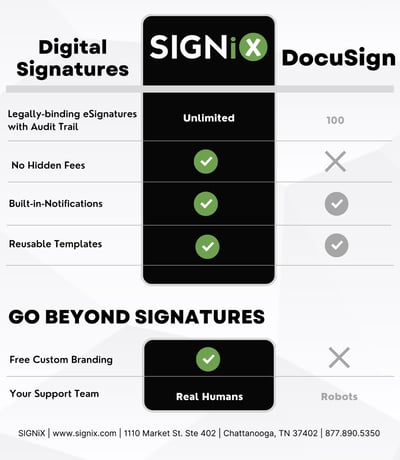 We've taken a deep dive into DocuSign's features and compared them to ours in order to make your e-signature choice easier. Our team spent time researching DocuSign's offerings, and we compared our subscription plan to theirs.
SIGNiX could be your solution. You'll experience the compelling benefits of a digital signature in comparison to basic e-signatures. SIGNiX is here to help you reduce your risk and your cost. We'll analyze your signature needs and provide you with fully transparent pricing. Stop overspending for your signatures. Start saving with SIGNiX.