Electronic signature company offers free eBook to teach community banks the benefits of adopting digital signature technology.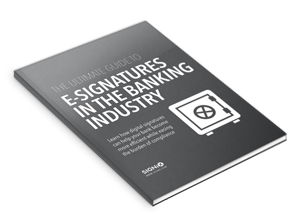 CHATTANOOGA, Tenn.—April 30, 2013—SIGNiX, a leading digital signature provider, released an eBook titled "The Ultimate Guide to e-Signatures in the Banking Industry" to provide banking executives with everything they need to know about how electronic signatures can ease compliance burdens, increase efficiency and lower costs.
"We wanted to give banks a resource to help them navigate the world of electronic signatures," said Pem Guerry, executive vice president of SIGNiX. "Our eBook covers challenges banks are facing and gives them real solutions they can take action on right away."
Though electronic signatures have been around for more than ten years, many banks and financial institutions are just starting to become comfortable with the technology due to legal, risk and user experience issues.
When banking executives download this 17-page eBook, they will learn:
How digital signatures ease compliance burdens
Which documents you can digitally sign
The differences between electronic and digital signatures
What makes a digital signature legal
Tips for implementing digital signatures
About SIGNiX
SIGNiX, headquartered in Chattanooga, Tenn., makes signing documents online safe and secure. SIGNiX offers the only independently verifiable cloud-based digital signature solution, which combines convenience with top-level security. SIGNiX's products help the world's leading companies become more efficient, decrease risk and boost profits.