Relationship provides credit unions throughout Tennessee with preferred access to leading digital signature service in credit union market.
CHATTANOOGA, Tenn—October 15, 2012—SIGNiX, the leading provider of true digital signatures online, today announced that the Tennessee Credit Union League (TCUL) has finalized an agreement with SIGNiX to be the exclusive electronic signature provider endorsed for their credit union community.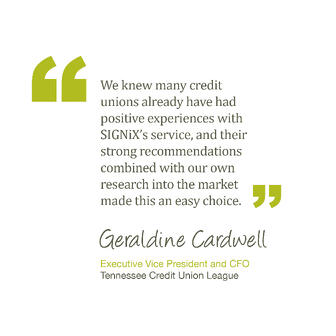 "Tennessee credit unions have been seeking ways to eliminate costs, delays and operating inefficiencies. The extra paperwork requirements caused by the recent Regulation Z changes for closed-end loans have only increased the need for an effective solution. We recognized that electronic signatures could significantly reduce the burden on our members, but we wanted to choose a vendor that offered both security and convenience," stated Geraldine Cardwell, Executive Vice President and CFO, Tennessee Credit Union League. "We knew many credit unions already have had positive experiences with SIGNiX's service, and their strong recommendations combined with our own research into the market made this an easy choice."
SIGNiX combines the speed and convenience of lightweight e-signature solutions with the assurance of true digital signatures to deliver an intuitive online experience that meets the needs of credit unions for executing trusted, long-term member agreements and contracts. SIGNiX utilizes a standards-based, digital signature for each and every signature and initial in a complete set of executable documents, providing trust that the document didn't change from the first signature to the last. SIGNiX digital signatures also lower risk by offering a future-proof document of record that can be verified independently of the SIGNiX service. As a result, users don't need to check back with SIGNiX just to verify individual signatures or the validity of complete transactions, eliminating the vendor lock-in demanded by other e-signature providers.
"This new partnership with TCUL demonstrates how SIGNiX and its standards-based digital signatures are becoming the new standard for credit unions. SIGNiX has served credit unions nationally for more than five years, both directly and in collaboration with credit union technology partners to deliver fully integrated document-based solutions," said Jay Jumper, CEO, SIGNiX. "Technology is a key element of the credit union-member relationship, and the combination of our ease-of-use with the inherent security of trusted digital signatures means that our customers can not only benefit from quicker closings and better member service, but they can also trust that their signed documents and agreements will stand the test of time."
About SIGNiX
SIGNiX, headquartered in Chattanooga, TN, offers a patented, standards-based digital signature service that allows users to send and sign documents online easily without compromising on security. SIGNiX enables customers to move to truly paperless processes with a solution that is secure, auditable and compliant with the ESIGN Act, UETA and other relevant U.S. and international laws and regulations. Users can be immediately authenticated online so that documents requiring a signature can be legally executed electronically without the costs, risks, delays or resources of paper processing. This helps increase the speed, accuracy and security of document execution relative to traditional paper and ink-based signatures without the requirement for hardware or software installation. For more information, visit http://www.signix.com, email sales(at)signix(dot)com, follow SIGNiX on Twitter @signixsolutions, call 877-890-5350 ext. 1048 or visit SIGNiX on Facebook.
About Tennessee Credit Union League
The Tennessee Credit Union League (TCUL) was formed in 1934 as a 501C-3 non-profit trade association for Tennessee credit unions. The League's mission is to promote and support the success and advancement of credit unions in meeting their service and structural goals. For more information, visit http://www.yourleague.org.