Leading digital signature company offers free eBook to help credit unions meet the requirements of Regulation Z with the help of e-Signatures.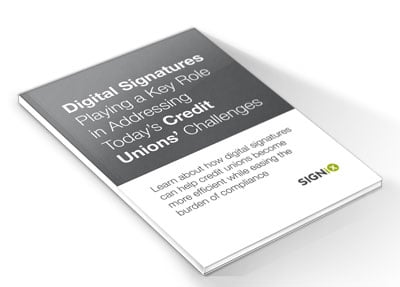 CHATTANOOGA, Tenn.—February 13, 2013—SIGNiX, a leading digital signature provider, released a short eBook titled "Digital Signatures Playing a Key Role in Addressing Today's Credit Union Challenges" to provide credit union executives everything they need to know about how e-signatures can streamline operations and ease the compliance burdens of Regulation Z.
"We wanted to give credit unions a resource to help them more efficiently meet the new requirements of Regulation Z," said Pem Guerry, executive vice president of SIGNiX. "Our eBook covers challenges credit unions are facing and gives them real solutions they can take action on right away."
Regulation Z now requires that every time a credit union changes the terms of a loan, they must get the member's signature instead of a verbal approval. This adds paperwork and hassle for both the credit union staff and for members. Electronic signatures can ease this burden by enabling members to securely sign documents online without any hardware or software required.
To download the eBook, go to http://www.signix.com/Digital-Signatures-Playing-a-Key-Role-in-Addressing-Todays-Credit-Unions-Challenges
About SIGNiX
SIGNiX, headquartered in Chattanooga, Tenn., offers a standards-based digital signature service that lets users send and sign documents online without compromising on security. SIGNiX enables customers to make their processes paperless with a solution that is secure, auditable and compliant with laws and regulations in the United States and internationally. Users can be immediately authenticated online so documents can be legally executed electronically without the costs, risks, delays or resources of paper processing.