After comparing e-signature vendors, Georgia's second largest credit union choses SIGNiX for higher security at a lower price.
CHATTANOOGA, Tenn.—March 24, 2014—SIGNiX, the leading digital signature service provider, announced today that Atlanta Postal Credit Union has adopted its electronic signature technology. The 107,000-member credit union chose SIGNiX because of flexible pricing and superior value compared to other e-signature vendors.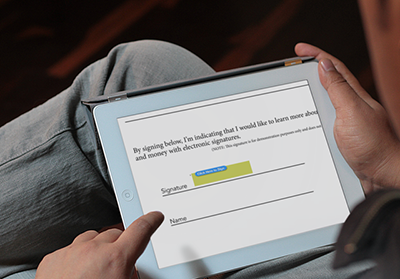 "The other vendors' pricing models were so strict, they were going to charge a lot more for a similar product," said Chuck Head, Executive Vice President of Atlanta Postal Credit Union. "SIGNiX worked with us to understand what our credit union required to fit the unique needs of our members—all for a much lower cost than their competitors."
Atlanta Postal is adopting e-signature technology so its members and employees can easily sign documents online. With SIGNiX's MyDoX product, members can legally sign documents online from any mobile device or computer. Moving their paperwork to a digital process will improve member service and decrease the burden of paperwork on employees.
"At first we were just looking at e-signatures for business lending, but SIGNiX's prices were so reasonable that we decided to adopt e-signatures across our entire credit union," Head said. "It's amazing that we can get such an easy user experience at such a great value, and it's all backed by SIGNiX's top of the line security."
Atlanta Postal will use SIGNiX's e-signature technology in five departments:
Business lending
Mortgage
Human Resources
Enterprise Risk Management
Executive
Atlanta Postal has implemented SIGNiX's cloud-based e-signature products, which lets employees upload documents, customize fields and immediately send documents for a signature. Atlanta Postal is the latest addition to SIGNiX's growing list of credit union clients that cite security and ease of use as their top reasons for choosing SIGNiX.
"There are so many credit unions asking my opinion about SIGNiX, not just because we're using them, but because so many others in the industry have chosen SIGNiX," said Margaret Glover, Business Lending Manager at Atlanta Postal Credit Union. "When asked, I assure them that if they want better security at a fraction of the price, SIGNiX is the right choice."
About SIGNiX 

SIGNiX, the most trusted name in digital signatures, makes signing documents online safe and secure. SIGNiX offers the only independently verifiable cloud-based digital signature solution, which combines convenience with best-in-class security. SIGNiX's products help the world's leading companies become more efficient, decrease risk and boost profits. For more information, visit www.signix.com.
About Atlanta Postal Credit Union
A full-service financial institution, Atlanta Postal Credit Union was chartered by the state of Georgia in 1925. The credit union is the oldest credit union in Georgia and one of the largest credit unions in the nation with assets in excess of $2 billion. It is a leader in providing both lending and deposit products to over 107,000 members via its ten branches, seven in Atlanta, one in Macon, one in Rome, one in Asheville, NC, and via its Internet Web site at www.apcu.com. The main office is located at 3900 Crown Road, Atlanta, GA 30380-0001.