Here at SIGNiX, we've been dedicated to providing our customers with digital signatures delivered via the web (with no software or hardware install required) for over 11 years. The service was designed to be easy to use and also meet the legal and security demands of today's electronic records and documents. SIGNiX recognizes that while a signature may simply be a quick and simple stroke of a pen in the paper world, its significance goes far beyond that wet ink scribble:
A signature declares the signer's intent to enter into an agreement and carries a legal weight that can last years, if not decades, depending on the document or agreement.
What's critical to understand is the nature of electronic documents is quite different than paper. With paper documents, it's easier to detect erasures, pasted text and the like because the paper exists in a three-dimensional space.
With electronic documents, however, this is much more difficult as software was designed to allow users to easily edit documents while leaving little evidence behind of the change (i.e. word processing). On the other hand, some electronic systems are able to track events, create metadata and manage integrity/assurance and other capabilities that propel them way beyond the world of paper documents.
This is notable because the bar for maintaining electronic records and evidence is rising rapidly. If organizations don't choose electronic systems that can support the capabilities listed above, they risk those records being rendered meaningless. With an increasing majority of documents starting in an electronic format, this is no longer an issue organizations can avoid.
However, many of our clients or prospects are not necessarily aware of this rising bar, and we're concerned that they might not have all the resources necessary to make the right decisions for their important signed documents. With this in mind, we've created a set of rules that can help to inform their acquisition and legal/compliance departments about e-signature technology. We want electronic signatures to be safe and low risk, but for that to happen, you have to choose the right partner first.
This series of blog posts will cover seven rules in detail and explain why they are so critical to today's business and technology environment.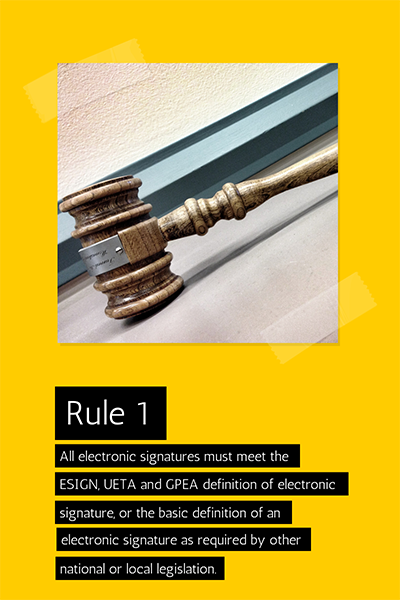 E-Signature Rule 1
All electronic signatures must meet the ESIGN, UETA and GPEA definition of electronic signature, or the basic definition of an electronic signature as required by other national/local legislation. (For example, in Canada, PIPEDA and SOR 2005-1.)
Every electronic signature solution selected by clients in the United States should meet the requirements of GPEA, ESIGN and UETA. This is the base level of requirement for all electronic signatures.
However, we find that these laws don't differentiate between legally admissible and legally defensible. Many solutions are admissible, but they may not withstand heightened legal scrutiny. For example, ESIGN has no specific requirements that an electronic signature provides tamper-evidence, so theoretically a document could be changeable and still meet ESIGN's requirements. But that's not a legally defensible way to get your documents signed.
Let's be honest. UETA and ESIGN came into being at the beginning of the Internet age in 1999 and 2000, respectively. Remember, in 2000, there was no WiFi. No Facebook, no Twitter. No smartphones. Floppy drives were still in use (though on the decline) and less than 50% of adults used the internet.
Fourteen years have passed, and so much has changed in the technology landscape as to render what we were doing in 2000 almost obsolete and foreign to today's youth. Now, access to the Internet is practically ubiquitous, social media is used by roughly 75% of the U.S. adult population and over 50% of adults own a smartphone. Technology evolves, as does our understanding of what technology can do for us.
In the past year, we've seen many organizations and businesses use ESIGN as a starting point for their e-signature requirements, but not as a finish line. For example, just a few weeks ago the Federal Housing Administration announced broad recognition of electronic signatures on a wide variety of documents, but only if those electronic signatures met requirements that went well above and beyond those established by ESIGN.
Today, any electronic signature solution must not only meet the ESIGN standard for legal admissibility but must also be measured against additional requirements (which we'll spell out in future posts) that ensure signature and evidence defensibility in the long term. These will ensure that e-signature technologies that are appropriate for lower-risk transactions (school permission slips, person-to-person transactions) are not being used for higher risk forms and documents like business contracts or home loans.
Next Thursday, we'll talk about three more rules for e-signature legality and compliance (here are links to part 2 and part 3).
To get SIGNiX's blog updates sent to your email, subscribe by clicking here.
John B. Harris joined the SIGNiX team as Director of Product Management in 2012. He focuses on rigorously tying customer needs, industry trends, and technology innovations to specific product requirements, while also contributing to SIGNiX's marketing efforts and driving a product strategy that enhances SIGNiX's leadership position.