The enhancement will allow financial advisors to securely open accounts online using industry leading digital signature technology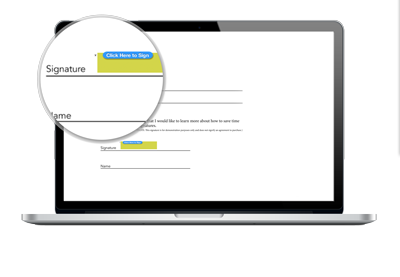 CHATTANOOGA, Tenn.—January 28, 2014—SIGNiX, the leading provider of secure digital signature services, today announced that Pershing LLC (Pershing), a global business solutions provider in the financial services industry, has chosen to embed SIGNiX's electronic signature features into NetX360®, Pershing's online platform for investment professionals and RIAs.
"Pershing plays a key role in the expansion and use of electronic signatures in the financial services industry," said Jay Jumper, president and CEO of SIGNiX. "With this new integration, advisors can offer clients an improved onboarding experience while maintaining the appropriate level of controls to establish new relationships."
In addition to boosting mobility and security, SIGNiX's signatures save time and money for financial advisors. The technology replaces the time-consuming process of sending, receiving, fact-checking and filing paper documents. Instead, advisors can prepare documents in minutes with the assurance that every finished document will come back without any missing signatures.
"Security and compliance are two driving concerns for our clients, and SIGNiX put those concerns to rest by offering an easy-to-use service that provides the document protection and evidence our clients are looking for," said Michael Nesspor, managing director of Pershing.
By embedding SIGNiX's Signature EngineTM into NetX360, Pershing clients will be able to open accounts entirely online using secure digital signatures. This will help advisors grow their business, better serve clients, reduce expenses, increase efficiency and enhance compliance oversight. The embedded e-signature product will feature customizable workflows (Client ChoiceTM) as well as many key features of SIGNiX's products, including: tamper evidence, signer identity authentication, Vendor FreedomTM and a highly detailed, digitally signed audit trail.
"Brokerage documents last generations, not just a couple of years, and Pershing needed an e-signature technology that is based on standards that will stand the test of time," Jumper said. "We rise above the competition by offering digital signature technology that will be valid decades into the future."
This announcement comes in the wake of news that firms clearing through Pershing may submit documents signed using SIGNiX's technology.
About SIGNiX
SIGNiX, the most trusted name in digital signatures, makes signing documents online safe and secure. SIGNiX offers the only independently verifiable cloud-based digital signature solution, which combines convenience with best-in-class security. SIGNiX's products help the world's leading companies become more efficient, decrease risk and boost profits. For more information, visit www.signix.com.
About Pershing
Pershing and its affiliates provide global financial business solutions to approximately 1,600 financial organizations, broker-dealers, registered investment advisory firms, advisors, fund managers and asset managers who represent over 5.6 million active accounts. Located in 23 offices worldwide, Pershing delivers dependable operational support, robust trading services, flexible technology, an expansive array of investment solutions, practice management support and service excellence. Pershing is a member of every major U.S. securities exchange, and its international affiliates are members of the Deutsche Börse, Australian Stock Exchange, Irish Stock Exchange, London Stock Exchange and Toronto Stock Exchange. Pershing LLC (member FINRA/NYSE/SIPC) is a BNY Mellon company.