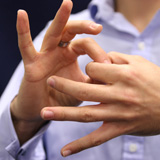 Regardless of market cycles, shifting demographics or changes in technology, there remains no more powerful driver in helping a client realize his or her financial goals — and overcome the challenges that may stand in the way — than a committed advisor with the perspective and dedication to play a meaningful role in the client's life. Kramer Financial in Frederick, Md., epitomizes this goal of being that meaningful influence in their clients' lives.
Kramer Financial is one of the few advisory practices in the country — and the only one licensed in all 50 states and Washington, D.C., according to the firm — that caters to the deaf community. The firm's commitment to the deaf community stems from common experience: all of its advisors are deaf, as well. This shared background with their clients has made Kramer Financial's professionals keenly aware of the difficulties facing deaf investors, and contributed to the firm's dedication to helping each client receive the support and advice they need to achieve their financial goals.
Lee Kramer founded the practice in 1985, when he was affiliated with an insurance company. As the demand for his services began to grow, he was joined by Dave Frank in 1998, and later by Stephanie Summers and Danny Lacey. Mr. Lacey expanded the firm's footprint west to Austin, TX.