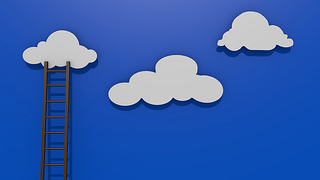 Cloud computing is all the rage today, and that's no surprise: the collaborative work environment, information sharing and efficient data storage that cloud computing offers is unmatched by any other recent developing in computing, data storage, or software. As a result, more and more businesses are making the move to cloud computing, putting their computers, data and communications in the cloud.
These businesses are almost universally better off for this change, as cloud computing enables the work environment that the advent of the Internet always promised: a collaborative space where information flows freely and is always accessible – in real-time – by those who need it to do their job more effectively. Yet every new development in technology brings with it new problems, and this is no less true with cloud computing. Specifically, the openness that cloud computing offers can also render a business more vulnerable to theft, fraud and corporate espionage.
Consequently, businesses that engage in cloud computing have had to step up their game as far as security is concerned. While there are a variety of measures that businesses must take to ensure that cloud computing isn't more of a risk than it is an asset, one of the key ways a business can secure its documents delivered via the cloud to partners and customers is through electronic signature software.
Why Use Electronic Signatures?
Electronic signatures offer a way to protect the sensitive documents that are being sent back and forth over the cloud, as well as the relationships that those documents create and enable. Many people believe that electronic signatures are merely a person's signature uploaded into a computer and pasted onto a document, but companies who do their due diligence choose electronic signatures that are far more capable and secure than that, especially if you expect them to protect against skilled and knowledgeable cybercriminals.
What the Right Electronic Signature Can Do for You
The type of electronic signature these businesses choose is called a digital signature, which is based on published technical and international standards. Digital signatures provide three primary assurances of security: authenticity, non-repudiation and integrity. With these three aspects of document security ensured, you can conduct your business over the cloud without worrying that your document security has been compromised by those who mean to do your business harm.
Digital signatures can be used to authenticate the source of a message by establishing the ownership of the message. A digital signature secret key can be bound to a specific user, which then shows up only when a message is sent by that user. In this way, you can be certain that the person you are receiving information from is actually coming from that person; cybercriminals might otherwise attempt to send you fraudulent messages, impersonating a member of your team, a client or a business partner.
Explore more infographics like this one on the web's largest information design community - Visually.
Integrity and Non-Repudiation
Authenticating the source of a document in the cloud isn't your only concern. Integrity is also important: you have to be absolutely certain that the document has not been altered between when it was created and when you are viewing it. Many businesses choose to encrypt their documents, which is a great step in ensuring cloud security, but sometimes encrypted documents can be changed without necessarily being decrypted.
When you include a digital signature in a document, that signature will create a tamper-evident seal. If the document is tampered with, it will alert anyone viewing the document that it has been tampered with and that the integrity of the document is not intact.
Finally, documents that are signed with adigital signature, like those offered by SIGNiX, include not only protections against tampering, but they also provide a detailed trail of breadcrumbs that shows who looked at the document, when they signed it, and what steps they took to review it. This provides protection against clients repudiating that they never looked at or signed a document, which guards you against future business fraud. There are occasions where clients, business partners or employees may seek to repudiate their documents for a variety of reasons, which can cause problems for your business and your dealings. Electronic signature services like SIGNiX that use digital signatures for every signature and initial render it difficult to repudiate documents, as the audit trail and signatures would show evidence that this wasn't the case.
The Future of Your Business
The progress and opportunity that cloud computing presents is too powerful and too useful to be ignored. The future of your business is cloud computing, which means that if you want that future to be a long and profitable one, the future must also necessarily be one where you use the appropriate security for your business and relationships in the cloud. Electronic signatures—namely, digital signatures—are just a part of that security, but a vital part nonetheless that you cannot afford to ignore if you want to ensure the authenticity and integrity of your sensitive documents.