Lindsay Edwards, lending manager of Access Community Credit Union, was frustrated by the credit union's paper loan application process. It was a hassle both for members and credit union employees, and she needed a solution.
In 2007, the credit union started sending loan documents to members through secure email, but that remained inconvenient for members who still had to print, sign and send documents back to the credit union by email, fax or mail.
It was also a burden for Lindsay's lending team, which had to deal with loan applications sent from multiple different channels. On top of that, the documents sent back by email or fax weren't always legible.
Finding a Solution in Digital Signatures
After two years of sending loan documents through email, they'd had enough. Lindsay knew there had to be an easier way, so she started looking for other solutions. That's when she first considered adopting e-signatures.
With electronic signatures, Lindsay's team could send documents to be signed online. Not only would it streamline the loan application process, but it would also give members a much more user-friendly experience.
Lindsay worked with the credit union's senior vice president and COO John Hays to research e-signature services, and they both agreed that e-signature technology could solve a lot of their problems.
Choosing SIGNiX for Loan Applications
With that in mind, Lindsay and John searched for a more flexible solution where any document they had on file could be signed. There were several products on the market to choose from, but John was impressed by SIGNiX's industry-leading security features. At first, Lindsay and John looked into the e-signature service offered by their core processor, but they weren't convinced it was a good long-term investment. The core processor could only get signatures on a set of standardized forms and couldn't accommodate the third-party forms that Access Community Credit Union often used.
"SIGNiX was the best fit for us because the detailed audit trail is a great complement to the signed document," John said. "Another factor for us was how much control we had in setting the signer identity authentication. SIGNiX lets us use varying layers of security, and it's easy to customize for each transaction."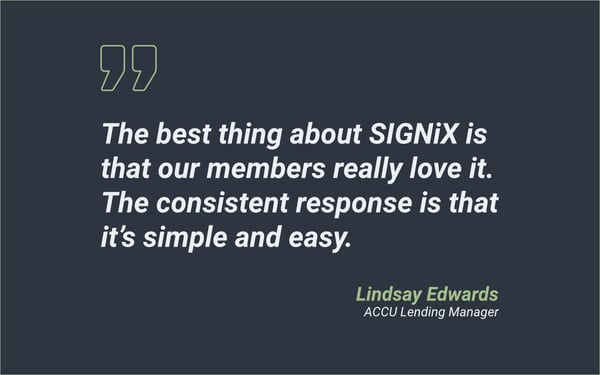 Quick Results with SIGNiX
Access Community Credit Union has had nothing but positive feedback from their members about SIGNiX's MyDoX digital signature service.
Since adopting SIGNiX's technology in August 2013, Access Community Credit Union has increased its monthly number of loans closed online by 97 percent. "For our credit union, e-signatures are an integral component of a much bigger strategy that we will continue to expand on in the future," John said.
On top of that, John said the savings on postage and back-end efficiencies more than justify the cost. "For us, another win is the opportunity cost," John said. "If we spend less time closing loans, then we should have more time to go out and get new borrowers."