Technology has changed the way we create and sign documents, the way we make binding business agreements, identify document signers and notarize signatures.
However, many people don't realize that the terms "e-signature," "eNotarization" and "webcam notarization" refer to distinctly separate technologies and procedures. Here's a guide to clarify these terms.
Electronic Signature or "E-Signature"
Electronic signatures, or "e-signatures," refer to when a person makes a binding signature using electronic technology instead of a traditional handwritten signature. Many forms of e-signatures are commonly used today, such as signing a digital pad when you pay with a credit card, using a PIN to withdraw money from an ATM or clicking "submit order" when purchasing something from an online vendor. Though they can take many forms, e-signatures are widely accepted for everyday transactions and considered as legally binding as a signature on a paper document.
Electronic Notarization or "eNotarization"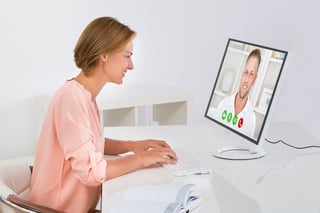 Electronic notarization, or "eNotarization," is a notarization process performed electronically. Just as during a traditional paper notarization, a signer physically appears before a Notary and presents proof of identity. The difference with an electronic notarization is that the document being notarized is in electronic, or digital form, and the Notary will sign the document electronically (see "Electronic Signatures" above) to complete the notarization.
Electronic notarizations are still relatively uncommon. Sixteen states have developed rules for using eNotarization, and some mortgage lenders have also allowed customers to sign electronic documents that are then eNotarized using a title company's proprietary technology. But eNotarizations have not yet been universally accepted by the public and business world for everyday transactions.
Webcam Notarization

Many people mistakenly believe that a "webcam" notarization means the same thing as an "electronic notarization" but this isn't the case.
While an electronic notarization uses digital documents and signature technology, during an eNotarization the signer must still appear in person before a Notary Public — exactly like a traditional pen-and-paper notarization. A "webcam notarization" allows the signer to use video or audio technology to communicate remotely with a Notary in order to have a notarization performed.
At present, only three states permit the use of webcam technology to perform notarizations. Virginia and Montana permit webcam notarizations under limited circumstances and in 2015 Florida authorized certain law enforcement and correctional officers to administer oaths and affirmations via webcam.
Other states have issued public statements that webcam notarizations may not be performed by Notaries in their jurisdictions, including California, Colorado, Nevada, New Jersey, Oklahoma, Oregon, Ohio, Rhode Island and Washington.
Webcam notarization remains a topic of debate. Supporters point out that it provides great convenience for customers who may have difficulty locating or meeting with a Notary. However, critics have raised concerns that using online communication technology for notarizations increases the risk of document fraud, because the Notary is not face to face with the signer and cannot physically examine the signer's identification documents.
eRecording
Many documents related to real property transactions — such as deeds and mortgage assignments — must be filed, or "recorded" with the county or municipal recorder's office. Electronic recording, or eRecording, is the process of "recording" those documents in electronic form. This may be accomplished by submitting an electronic document (such as a PDF) which is stored electronically, or by submitting a paper document, which is scanned into electronic form.