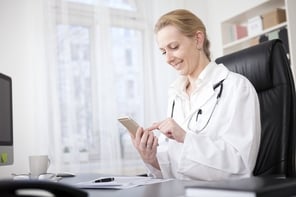 We are excited to announce we've partnered with RELATIENT, LLC. of Nashville, Tennessee!
RELATIENT is a cloud-based healthcare information technology (#HICT #HIMSS) company that elevates the patient to the status of customer – with whom deep and meaningful engagement is essential. Such engagement means making it simple and convenient for patient-customers to understand and immediately complete all paperwork related to their care – such as consent-to-treat, consent-to-bill, multi-party consent-to-release, HIPAA privacy statement and new patient forms, as well as updated medical history and other patient-provided data, like health risk assessments.
The SIGNiX and RELATIENT partnership improves patient engagement by allowing paperwork to be completed, signed and submitted electronically via any device, at any time and from any location with Internet access. In addition to making it easier for patients to review and sign essential forms, it also allows health care providers to devote more of their time to clinical activities by dramatically decreasing the time handling paperwork.
"Integrating SIGNiX's Independent E-Signatures™ with the RELATIENT platform will enable providers to send and receive forms electronically prior to a patient's appointment, so that patients are ready for clinical care the moment they arrive," said Sam Johnson, President and CEO of RELATIENT. "It also streamlines data entry from documents, as back office staff members no longer have to manually coordinate these documents and data. Practice management notes and the electronic health record are up-to-date electronically and secure and compliant with all regulations. Providers get to focus on what matters most, patient care.
"We see SIGNiX as a force in the healthcare provider market already. The company has been vetted and accepted by some of the largest and most demanding provider and technology organizations in healthcare as well as major, global pharmaceutical companies. These enterprises take great pains to make sure cloud-software providers, like RELATIENT and SIGNiX, meet all regulatory requirements, as well as provide high user satisfaction with superior ease-of-use and rapid implementation," Johnson added.
SIGNiX's Independent E-Signatures™, which permanently embed the legal evidence of a signature into a signed document, are designed to meet the strict compliance standards of the healthcare and life sciences industries, including HIPAA and FDA 21 CFR Part 11.
"We're honored to be part of RELATIENT's vision to seamlessly and securely connect patients and providers," said Jay Jumper, CEO of SIGNiX. "Together, SIGNiX, RELATIENT and healthcare providers will drive patient satisfaction, patient health, and practice profitability together. I cannot wait until I walk into a doctor's office and am not handed a clipboard with 10 forms to fill out manually. With this partnership, I will be able to fill out any paperwork at a time, place, and device of my choosing. That is treating the patient like a customer."
About Relatient
Relatient is an end-to-end healthcare messaging solution that delivers timely, effective messages to the healthcare consumer and back to the Provider, driven by real-time data contained in today's Practice Management and Electronic Health databases. Relatient's solutions reduce risk, improve revenue and eliminate costs, all while supporting health and care quality initiatives. For more information, visit www.Relatient.net.
Download our free integration guide to find out how to integrate e-signatures into your product or service.