As a pioneer in digital signature technology, SIGNiX has provided an easy, fast, and secure manner for users to sign important documents online for over 20 years. Since the launch of our innovative, PKI-based digital signature solution, the industry has grown with many alternative vendors offering basic e-signature solutions without the same focus on security and embedded legal evidence as SIGNiX's digital signature technology.
One of the largest participants in the e-signature market, DocuSign, has made recent headlines with the sudden and unexpected departure of their CEO Dan Springer after five years at the helm and a loss of 80% of its value from it's peak.
In the face of growing macro-economic environment concerns, SIGNiX has continued to thrive as a leading provider of easy-to-use and easy-to-trust cloud-based digital signatures. Our technology provides our users with key advantages not found in DocuSign or other basic e-signature vendors.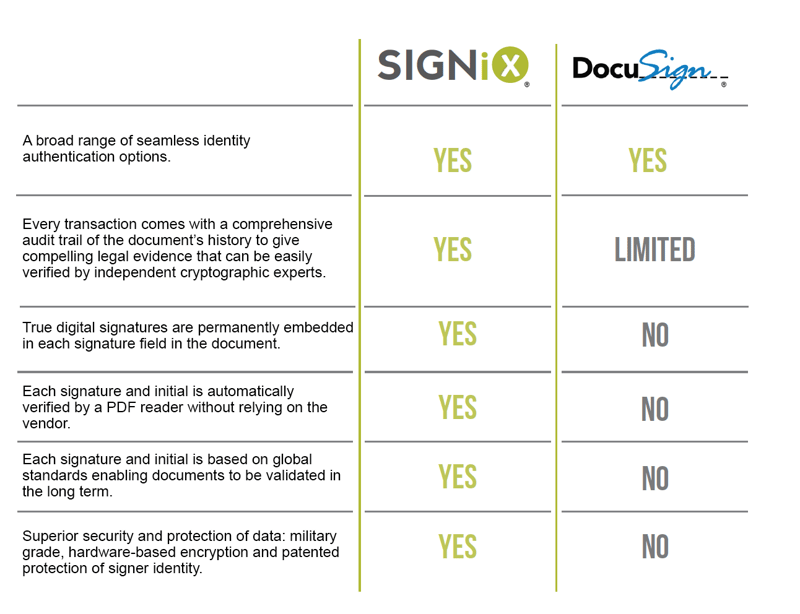 If you are interested in switching from DocuSign, SIGNiX makes the transition easier. We're here to help!
Make the move to SIGNiX's true digital signature technology and enjoy:
Seamless API integration with your favorite software applications
Free customized training and educational webinars to help you get up to speed quickly
Assistance with streamlined workflows and customized templates
No more vendor lock-in
Transparent pricing with no hidden fees and no renewal spikes
We're ready to help you transition from DocuSign to SIGNiX – get a demo of our digital signature solution, and we'll get you started on our step-by-step transition plan today.