SIGNiX products exceed revised IRS standards for electronic signatures on Form 4506-T requests for tax transcripts. With this change, the IRS hopes to speed up the mortgage origination process.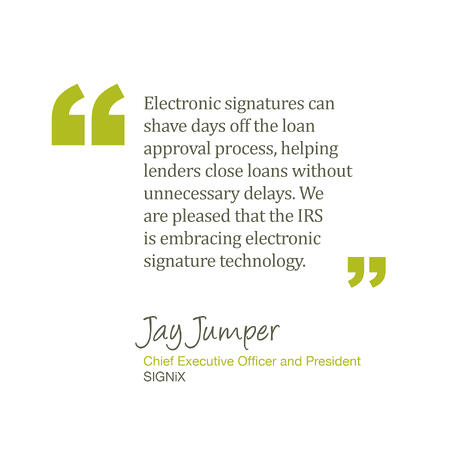 January 14, 2013—SIGNiX, a leading provider of secure digital signatures, announced today that its electronic signature products meet and exceed the recently published Internal Revenue Service (IRS) requirements for electronic signatures on 4506-T forms, eliminating a key obstacle in moving to a completely paperless loan approval process.
The 4506-T form authorizes the IRS to securely share a borrower's income from previous tax returns with a lender during the loan approval process. In the past, only handwritten signatures were accepted on this form.
"Electronic signatures can shave days off the loan approval process, helping lenders close loans without unnecessary delays," said Jay Jumper, CEO and president of SIGNiX. "We are pleased that the IRS is embracing electronic signature technology."
In response to industry pressure, the IRS created a set of requirements electronic signature vendors must meet to achieve the IRS's higher assurance needs. This new framework mandates two-factor authentication, tamper-evident documents, e-signature consent, and non-repudiation tools (like an audit log) to reduce the chance of a signer claiming he or she did not sign the form.
Lenders and consumers can easily and securely sign the 4506-T form using SIGNiX's digital signatures, which fully comply with ESIGN and UETA laws regarding electronic records. SIGNiX can authenticate users online using a diverse set of tools, including two-factor authentication. Each signature on a SIGNiX-signed document provides a tamper-evident seal for added security, and the included audit trail provides a full history of all the events leading up to the signatures themselves.
About SIGNiX

SIGNiX, headquartered in Chattanooga, Tenn., offers a standards-based digital signature service that lets users send and sign documents online without compromising on security. SIGNiX enables customers to make their processes paperless with a solution that is secure, auditable and compliant with laws and regulations in the United States and internationally. Users can be immediately authenticated online so documents can be legally executed electronically without the costs, risks, delays or resources of paper processing.