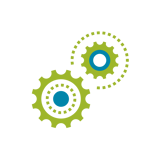 Integrating e-signatures into your product or service can add a lot of value for your clients. Below is everything you need to know about SIGNiX's e-signature integration options.


Signer Initiated Workflow
For any transaction (or set of documents) that need to be started by an external signer, Signer-Initiated workflow is a great option. A common use-case for Signer-Initiated workflow replaces PDF documents that require form-filling and signature but currently sit static on a website. By using SIGNiX's API, these PDF documents are available for online signing and are automatically routed for approval or storage.









User-Initiated Workflow
This workflow is a common integration that allows users to send documents for signature directly from your platform. SIGNiX is seamlessly integrated into your application so that users can send documents externally (or internally) without ever leaving your platform.


Straight-Through Processing (STP)
The STP workflow takes advantage of SIGNiX APIs to create a full integrated solution from the creation of a transaction, to the routing and final storage of the signed documents. This integration model is perfect for embedding SIGNiX's secure signing process into your existing workflow.








White-Labeling
The SIGNiX API not only allows for customized signing workflows, but also offers a wide scale of custom branding. Clients can customize several elements of the user experience. Clients can embed elements of the SIGNiX UI directly into their own platform. These custom elements can be re-skinned to perfectly match your brand. If a client chooses, they can re-name the signature integration and completely take the SIGNiX brand out of the picture! PLEASE NOTE: Contact your SIGNiX rep directly for more information about the AJAX API required for embedding.