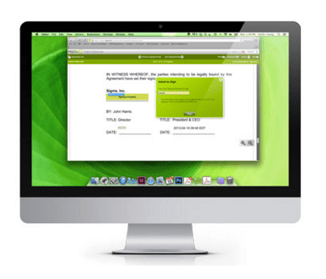 SIGNiX enables people to digitally sign documents electronically, eliminating the cost and waste of paper processes while providing better customer engagement, assurance and evidence than was ever possible with paper. At SIGNiX, we remember that a signature isn't just a scribble on a page. We're committed to make every one of your signatures count, for the life of the document, whether with the regulators, courts, or any other relying party.
SIGNiX is a cloud first, mobile first e-signature and authentication services platform enabling enterprise-quality workflow and digital transaction management. SIGNiX Independent E-Signatures™ (digital signatures) are the gold-standard for transactional legal evidence. SIGNiX is used by Fortune 500 organizations such as the Bank of New York Mellon (Pershing division), McKesson Corporation, Wolters Kluwer (CCH - US Tax Software division)—all of whom are market-leaders in the US.
SIGNiX is currently the top volume provider of digital signatures delivered via the cloud in a wide variety of industries that range from real estate, securities (broker/dealers), healthcare, and life sciences. SIGNiX has been a single-instance, multi-tenant cloud & mobile software for over 12 years, focusing on high volume, high value, and highly regulated markets where the assurance behind a signature is paramount and the need to maintain a compliant legal evidence record for a significant length of time is also critical.