Proving notary services during a nationwide pandemic
CASE STUDY: APL Federal Credit Union - SIGNiX Remote Online Notarization

50%
Settlement Time Reduction

60%
Increase in closings

100%
Adoption Rate
Overview
APL Federal Credit Union is based out of Laurel, Maryland. During the COVID-19 pandemic, credit unions were forced to change most of their day-to-day operations. APL Federal Credit Union has seen tremendous growth and improved productivity since implementing the SIGNiX RON platform. APL Federal Credit Union, like many others, had to get creative during the pandemic. Before RON, members would use the drive-through to get documents notarized. Their members needed to continue signing Deeds of Trust with a notary, but RON was new, and it was difficult for APL to select a proper vendor. SIGNiX was able to meet APL FCU's needs for online notarization and provide them with a solution that elevated the service to their members.
How did SIGNiX help?
With SIGNiX's RON platform, APL Federal Credit Union was able to give their members the opportunity to have documents remotely notarized within one day. One key feature that stood out to APL FCU was the customized training. SIGNiX's simple pricing structure and ease of use have been huge factors in APL FCU's success. Manion said, "Average settlement time has been cut in half, which permits my staff to focus on other areas of their job."
"The SIGNiX notary training sessions, along with detailed instructions on template creation, were critical for our operations."
Sean Manion, Vice President of Lending
APL Federal Credit Union
Results, Return on Investment, and Future Plans
APL Federal Credit Union reported that their closings increased 60%, and that is attributed to the ease of SIGNiX Remote Online Notarization Platform. In addition, "This past August and September were two of our busiest months since 2010, and staff said the SIGNiX platform helped us close more loans," said the Vice President of Lending. APL Federal Credit Union currently has 5 loan officers who are notaries that use the SIGNiX platform. They have plans to add more users in the future, including loan servicers and processors.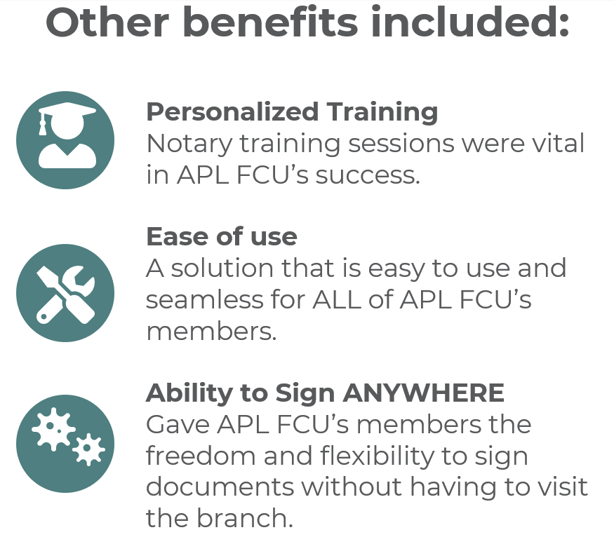 "This past August and September were two of our busiest months since 2010 and our staff said the SIGNiX RON platform helped us close more loans. Countless members have thanked us for making settlements easier. We have had members close loans while on vacation, sitting in a work truck, and from the comfort of their home."

Vice President of Lending, APL Federal Credit Union