SIGNiX September 2021 Update: Release Notes
SIGNiX is pleased to release numerous updates requested by its notary clients, including multiple online meetings per notarization, an easy text tool for typing information into documents, and even more secure knowledge-based authentication options. In addition, we're putting the finishing touches on our next generation Dashboard to deliver a faster, more efficient user experience when accessing MyDoX! And on top of all that, several quality-of-life fixes and improvements.
(167)
API / Integration*
Client-specific tweak to AJAX call handling (SIG-1248)
User Experience
Laid final foundation elements to enable new

Dashboard

experience to replace MyDoX® Document Center. Quicker access to common actions like downloading documents, ability to email, resume/suspend or even cancel multiple transactions at a time, and more! If all goes well, we'll start turning it on soon after release! (SIG-1168, 662, 1135, 1162, 1235, 1229, 1270)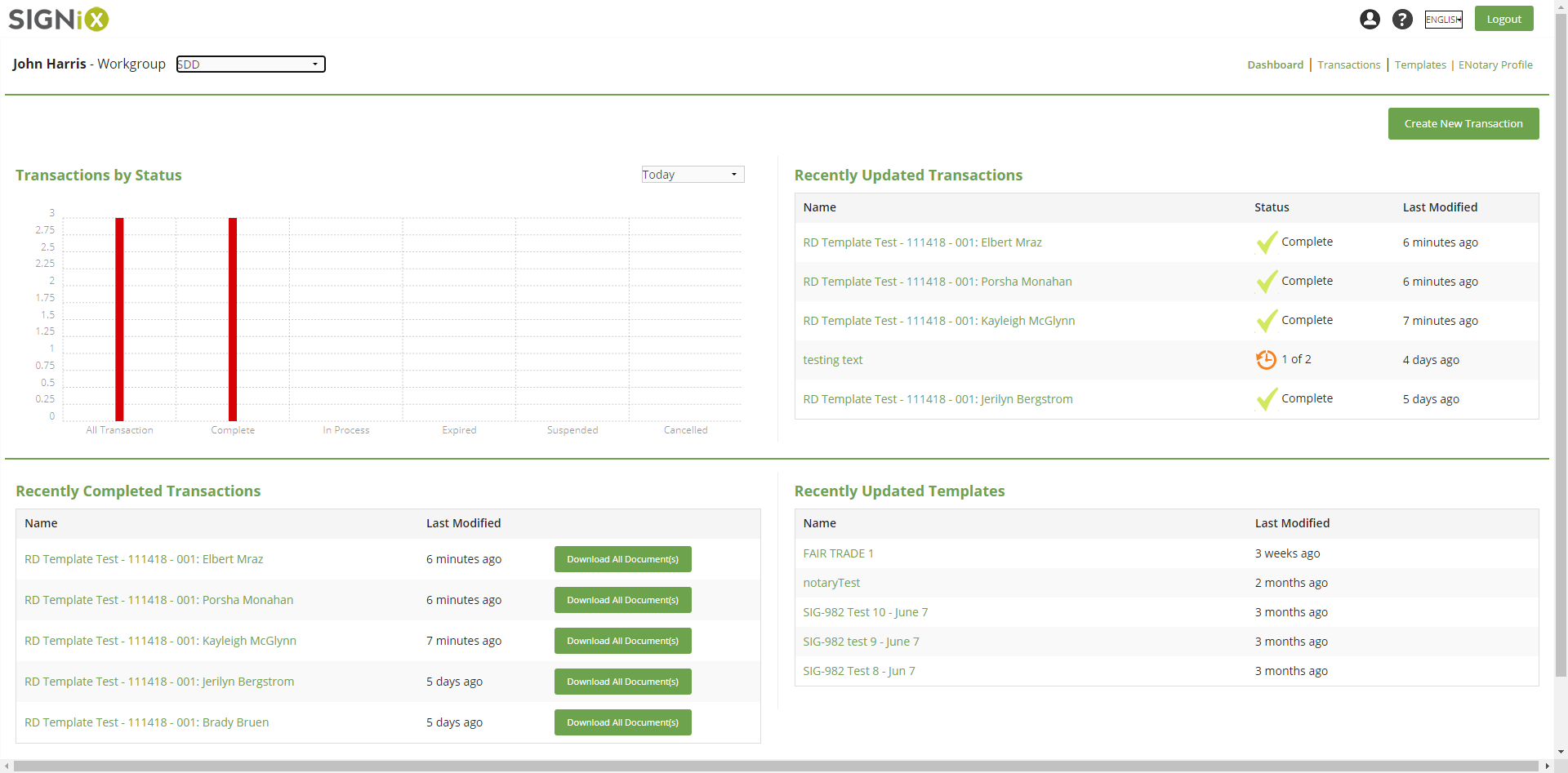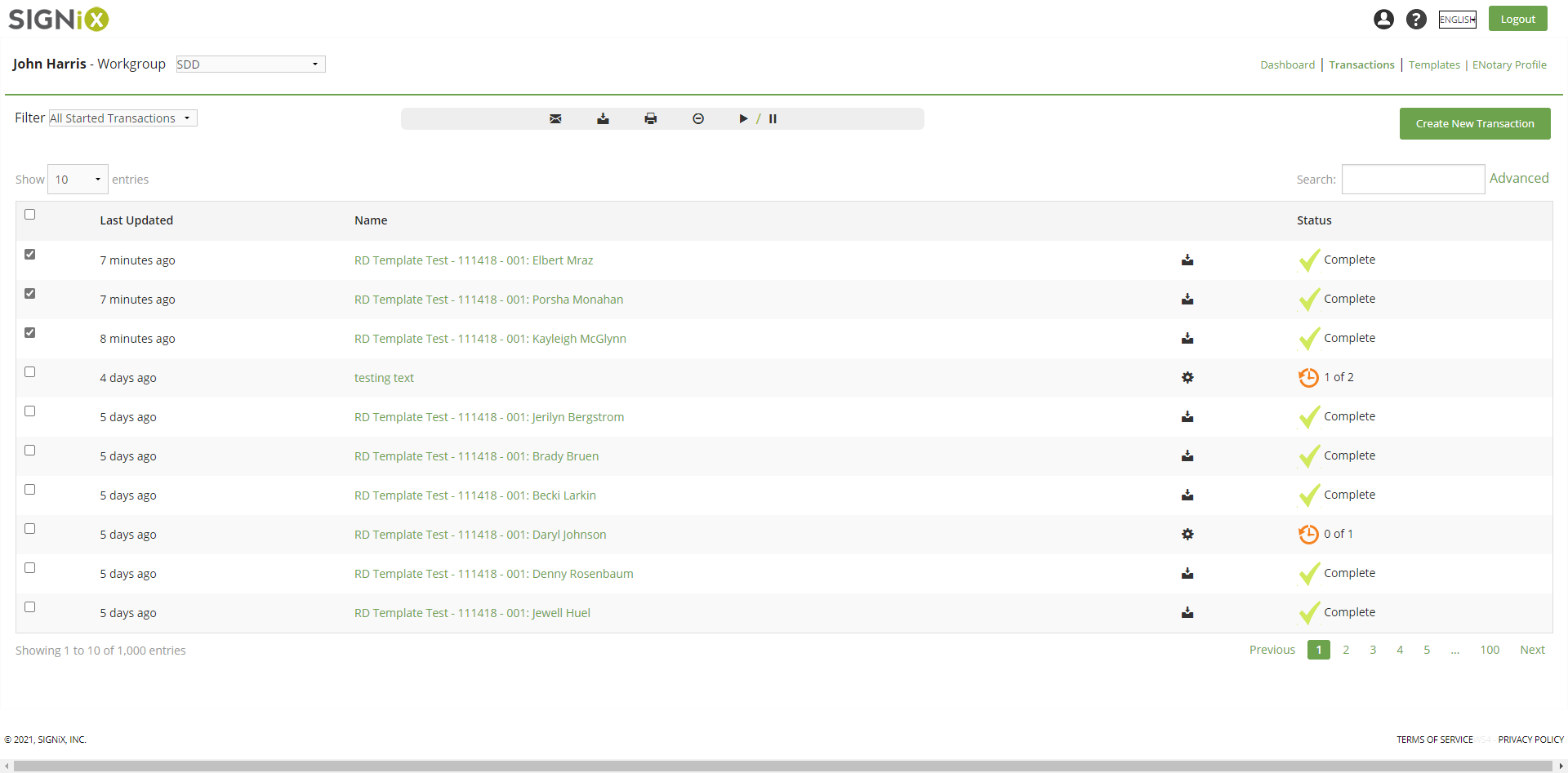 NOTARY - More than one online meeting can be started within an individual notary transaction. This highly requested feature will allow notaries to reference multiple online meetings within one notarization when various parties are not available at the same time. (SIG-606, 1147, 1151)
NOTARY - KBA-ID authentication now only requires the last

four

digits of a signer's social security number (SSN4) (as opposed to all 9 digits) to be entered to generate KBA questions. This will be provided as a new authentication option. (SIG-881, 1272)
Added a new 'Type' tool to the toolbar.
This tool allows the submitter to directly type text that will be added to the document and NOT be edited by any other party (including the notary) DURING signing. Font size can be easily controlled and will carry through to signing. The text that is typed in is not editable by any signer during the transaction, so this is perfect for adding information into a notarial certificate for example, prior to signing. All of this is now possible without having to add a text field and click on multiple dialog box options just to add text. To see a quick preview of the tool in action, click the picture below. Note that this does NOT replace the existing Text tool, which still works the same way as before and can be used to create EDITABLE text prompts during signing. (SIG-1090, 1260)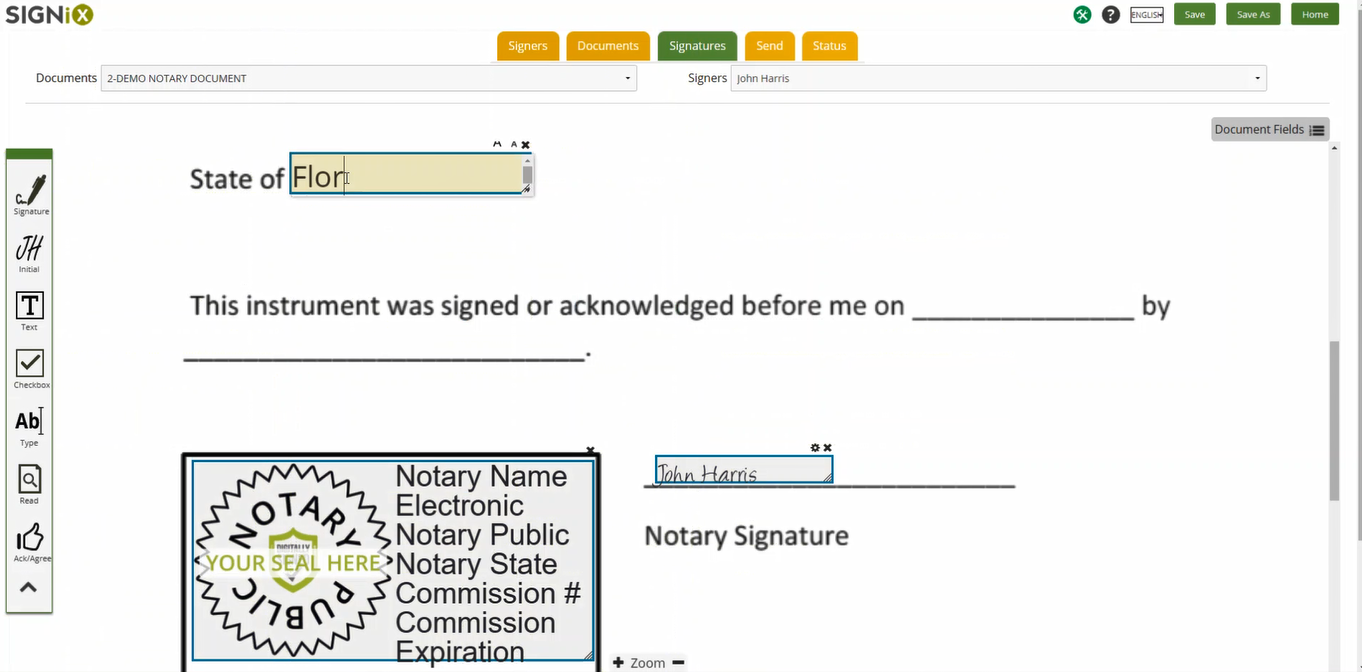 Added more international time zones to Date dropdown within Wizard per user requests. (SIG-904)
Updated logic when uploading documents to the Wizard so unnecessary dialogs are not popped up when a PDF form is added that doesn't already have a signature or initial field on it at upload. (SIG-1115)
ReadyDoX© - Resolved issue where documents to be signed were not properly listed. (SIG-1134)
Improved customization options to better differentiate inactive tabs in Wizard. (SIG-1154)
NOTARY - Fixed issues where notary seal wasn't properly re-assigned to party when signer order was changed or a signer removed from a suspended transaction. (SIG-1171, 1221)
NOTARY - Hold Email / Document Link Hold is now by default enabled for all Notary clients to eliminate an extra click at the Sending tab. (SIG-1249)
Simplified language in SMS text message sent to signers. Message will now read: "[Signer's First name]'s secret code is: [OTP]." Some clients reported that having the transaction name in the message confused the signer. Also fixed issue where two SMS messages were being sent in error in certain cases. (SIG-1192, 1259)
Architecture
Improving internal detail on AJAX API requests for troubleshooting purposes. (SIG-1161)
Tweaked identity lookup algorithm to facilitate better identity creation (SIG-1242)
Other Items
Improved specific internal reporting performance (SIG-1181)
Known Issues
Please let your SIGNiX representative know if you have any questions. Thanks for your business!