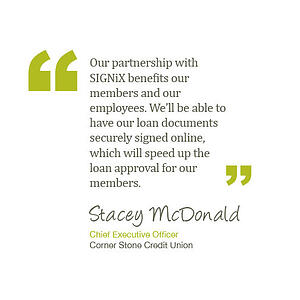 We're excited to tell you that Corner Stone Credit Union in Dallas decided to use our products for digital signatures! CSCU will use MyDoX so its members can sign documents online.
"Our partnership with SIGNiX benefits our members and our employees," said Stacey McDonald, CEO of CSCU. "We'll be able to have our loan documents securely signed online, which will speed up the loan approval for our members."
We will employ MyDoX, our standalone interface that lets users upload documents, customize fields and send documents out for signature immediately. Because we use cloud technology, CSCU won't have to download any software or install any hardware. To read the full press release, click here.
Want to learn more about what digital signatures can do for your credit union? Download your free digital copy of our eBook!