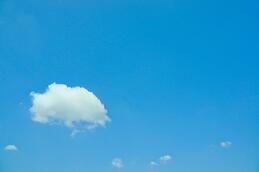 We came across an interesting article from across the Pacific this morning. Despite the fact that the use of computing power and services on the web can improve revenue, over 75% of small and medium businesses (SMBs) surveyed stated that they did not use cloud technology or services, according to a survey by MYOB, an Australian business software firm.
I, like the survey authors, am very surprised by these results.
The SIGNiX digital signature service is a 'cloud service,' in that we run the product on our own servers and enable customers to access the service over the Internet via web browser, without having to install software or manage hardware. This way, our customers can focus on the business problems at hand—getting documents signed—rather than having to worry about IT resources dedicated to keeping a system like this up and running. From an internal perspective this means lower costs and more productive workers, and from a customer standpoint, better customer service and faster turnaround. It's a win-win for most organizations.
We've seen customers large and small experience significant benefits moving to our service. SMBs can start using the service practically immediately and send forms, agreements and contracts for signature, eliminating delivery costs and allowing customers to execute these documents wherever, whenever, shaving days or weeks off of typical signature workflows.
So why are SMBs not adopting the cloud services? The survey suggests that a quarter of the non-users are unaware of the technology. I'm curious if these users simply don't use it, or don't know they use the 'cloud.' Email services like Gmail and social media services like Facebook are cloud services, and provide value to business as marketing and communication tools. MYOB CEO Tim Reed concurs. "Despite the technology industry's best efforts to teach others about the concept of cloud computing, our research shows a disconnect between SME cloud usage and their understanding of it," he said.
Another 50% of the non-users are concerned about security. This is understandable. Documents contain critical customer data. This is why at SIGNiX we run our services though a highly secure datacenter audited to the latest SSAE16 security regime. Our use of standards-based, independently verifiable digital signatures also means that our customers can download signed documents and store them in their own facilities, under their own security protocols.
Finally, there were businesses who suggested that they were not technically savvy enough to use these services. Education and ease-of-use should be a key aspect of any cloud service. If businesses like ours can't keep it simple, it will be difficult to sell the benefits alongside the complexity. At SIGNiX, we pride ourselves on having created a very simple signing process, such that clients of our customers can sign documents easily. The whole point of moving to an electronic signature process is to prevent users from having to resort to the even simpler (but more costly and time-consuming) wet ink process.
If your small-to-medium business is interested in removing the paper 'last mile' from its daily routine, click the button below, and we'll set up a live demo with you.