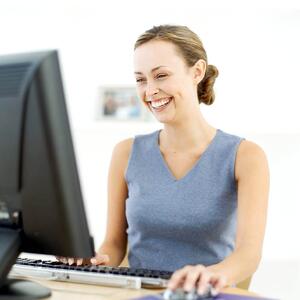 Two weeks ago, SIGNiX was pleased to have the opportunity to exhibit and participate at the Texas Credit Union League's Leadership Expo in San Antonio, TX, following our partnership announcement with Credit Union Resources (Resources). This annual gathering brought executives and thought leaders from credit unions around Texas together to discuss a number of topics central to managing these member-based financial institutions.
We thoroughly enjoyed meeting with all of the folks that came by our booth, and also very much appreciated the great attendance at our conference presentation. Having been scheduled for a talk on electronic signatures at eight o'clock in the morning on Saturday, you can understand that we were dubious about how many would show up. We though most folks might just be turning in from a fun night on the Riverwalk. But these credit union attendees were dedicated, and we were very pleased to have such an engaged and lively discussion at that time in the morning!
Based on the conversations we had at the show, we had a few observations and thoughts to share regarding digital signatures and credit unions:
Reg Z and the requirements for documentation around closed-end loans are proving to be a significant challenge to credit unions. Members are increasingly busy and mobile, and it's at the same time costly to mail and process the forms as well as a challenge to ask members to come back into the office to sign off on yet more forms. Electronic signatures are well-suited to meeting this challenge and will allow members to sign off on these documents legally, from the comfort of their own homes or offices.
Technology is becoming a competitive advantage. Several credit union representatives said that they were very interested in moving forward with digital signatures because they recognized that tools like these were key to staying relevant with a member population that was growing increasingly savvy with technology and was also growing to expect immediate feedback on transactions.
Security, compliance and assurance are key factors in assessing signature technology at credit unions. These were some of the specific reasons why Resources chose SIGNiX as an exclusive partner. Throughout the conference, attendees agreed with our contention that only true, standards-based digital signatures, like the ones we provide, are best suited to documents that have to be legally valid not only today, but also five, ten and fifteen years from now. Other e-signature solutions that require you to check back with a vendor to judge the validity of specific signatures won't cut it in that longer-term scenario. One credit union in particular told us that other major e-signature vendors had been rejected for use based on security concerns with their technology and approach.
SIGNiX looks forward to continuing its great partnership with Resources, and to extending our secure, standards-based digital signatures with an even broader credit union population in the coming weeks and months. We'll be publishing a variety of content specifically tailored to the needs of these organizations, and we have a variety of great announcements to come. Stay tuned!