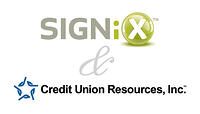 Wow. What a success the Texas Credit Union League Conference & Expo was last week for SIGNiX! We had an incredible time in San Antonio and met some great people. Thanks to all who came out to John Harris' early morning Saturday session.
Again, we can't state enough how excited we are to bring our digital signature technology to the credit union space. We hear over and over again how we are helping credit unions serve their members better by moving their systems to our electronic format. This move is saving them time and money and making their systems increasingly more efficient. Check out this article by LoneStar Perspectives explaining the significance of digital signatures for credit unions, Digital Signatures: Technology Ready to Save You Money and Time...With Ease!
Are you interested in saving your organization money and time? Contact Us and we'll show you how digital signatures can help you!